10th European Epidemiology and Public Health Congress Organizing Committee summons you to attend the massive gatherings of Epidemiologists, Infectious Diseases Researchers, Pulmonologists, Public Health Experts, Public Health Professionals, Professors, Academic Scientists, Industry Researchers, Scholars from around the world during May 29-30, 2020 at Istanbul, Turkey. It offers an exclusive opportunity for those who are looking to obtain Continuing Professional Development (CPD) Credits and those who are willing to share their research expertise to the world.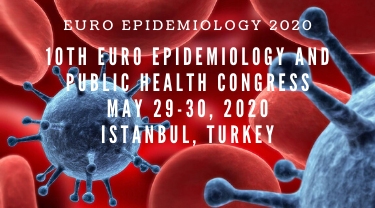 Theme: Exploring the Emerging Transitions in Epidemiology and Public Health
Epidemiology and Public Health Congress 2020 boosts the chance to collaborate with and gain from your friends from the nation over and over the globe, it had with the talks on Epidemiology, Infectious diseases, prevention and Control of Diseases, Public health management, Public Health Administration, Public health Measures.
Scientific Sessions: Epidemiology of Infectious Disease, Cancer Epidemiology, Nutritional Epidemiology, Molecular Epidemiology, Nutritional Epidemiology, Breast Cancer Epidemiology, Genetic Epidemiology, Geriatric Epidemiology, Reproductive Epidemiology, Obesity and Public Health, Public Health Measures.If interested for more details, visit: https://euroepidemiology.conferenceseries.com/
For Contact
Sophia Watson
Program Manager | Euro Epidemiology 2020
Email: euroepidemiology@memeetings.net
WhatsApp: +44 7723584505
T: 1-201-380-5561 (Ext. No- 7007)
---