2nd World Depression Congress takes immense pleasure to invite you to attend the International Meet of Psychiatrist, Psychologist, Psychotherapist, Psychoanalysts, Neurologist, Neuropathologist, Neuropharmacologists, Neurophysiologist, Psychobiologist, Biological, Psychologist, Neuroscience Nurse, Psychophysicist, Professors, Students from all over the world during April 27-28 in 2020 going to be held at Istanbul, Turkey
Theme: Cutting Edge Researches to Optimize Treatment Success of Mental Health Disorders.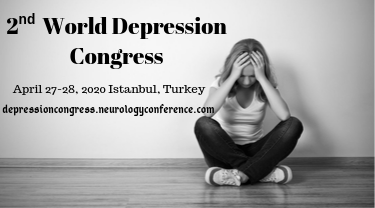 Neuroscience conferences provides you the platform to collaborate with and gain from your friends from all over the world. It includes the talk about the conceivable outcomes within the field of neurology and its viewpoints.
Scientific sessions: Personality Disorders, Mental Illness, Suicide Prevention, Child and Adolescent Mood Disorders, Mindfulness for Mental Well-being, Managing Stress, Geriatric Depression, Resistant Depressive Disorder, Mental Health Rehabilitation, Bipolar Disorder, Suicide Prevention

CONTACT:
Rose Mathews
Program Supervisor
WhatsApp No: +44-144-360-6408
Email: depression@memeetings.net
---